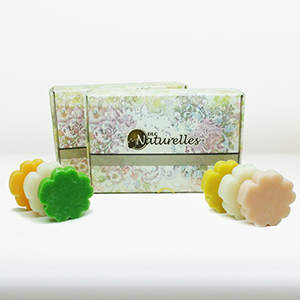 Naturelles TS Sampler (Box of 2 - Collection 1 & 2 TS)
PV: 17.52
Contains: Box 1 3 travel size soap bars (8 slices each)
1 Papaya with Milk
1 White Lily with Patchouli
1 Guava with Cucumber Box 2 3 travel size soap bars (8 slices each)
1 Gugo with Aloe Vera and Henna
1 Lemongrass with Yerba Buena
1 Sunburst Lime with Citronella
Description: Soothe the mind, body and soul with specially formulated soaps from DLC. Crafted with natural ingredients such as soothing white lily, pure essential oils of papaya or guava and healthy doses of vitamin-rich plant extracts, our all-natural soaps moisturize and pamper skin while lifting the senses, giving you a feeling of good health and well-being ...
Features of Naturelles
ALL NATURAL and 0% Preservatives
Our natural soaps feature only premium essential oils and natural plant extracts to help rejuvenate, nourish and purify the skin. We assure you that none of these hazardous or synthetic ingredients such as parabens, sulfates, propylene glycol and synthetic colorants will touch your skin.
100% Essential Oils
The benefits of 100% essential oils with natural ingredients create a holistic approach to care for the senses and skin. Each variant is a sensory experience, simply created to let you enjoy a moment of serenity, clarity and luxury.
The Purest of Ingredients
Made only from the finest ingredients, we created a naturally inspired collection of soaps for cleansing and moisturizing to keep your body healthy, energized and beautiful.
Unique-patented floral mold
With an eye for detail and craftsmanship, we carefully designed our soaps to minimize contact with water for longer use and enjoyment.
Triple-milled
Our famous triple-milled soap are rich, luxurious, elegantly scented and long-lasting to nourish your skin and pamper your senses.
6 Variants suitable for all skin-types
Our 6 variants were meticulously chosen to suit whatever your skin type is and enhance your bathing experience... making you feel pampered, nourished and moisturized.